Discover Today's Infotainment Systems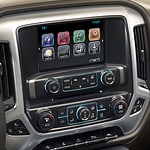 We want to help you learn more about infotainment systems found in modern vehicles like those in our inventory at Mike Bell Chevrolet. These systems have certainly updated the driving experience in Carrollton, GA.
If you have seen a touchscreen on a car's dashboard, you have encountered an infotainment system. The touchscreen is an interface that runs some of the vehicle's features. Usually, these features inform or entertain us while we drive. You'll manage radio stations and other available audio selections via this interface, and you'll place hands-free calls. Infotainment systems also include a vehicle's speakers and any other components the screen's menu may control.
The features in a vehicle's infotainment setup depend upon the trim you choose. If you select a trim designed for value, you can usually expect an infotainment system that includes the touchscreen, decent audio quality and smartphone compatibility. When you opt for a higher trim, you often gain premium sound, voice-activated navigation, and other luxury features.